Climate and Extinction Crisis Solved
Big benefits of returning some agricultural lands back to nature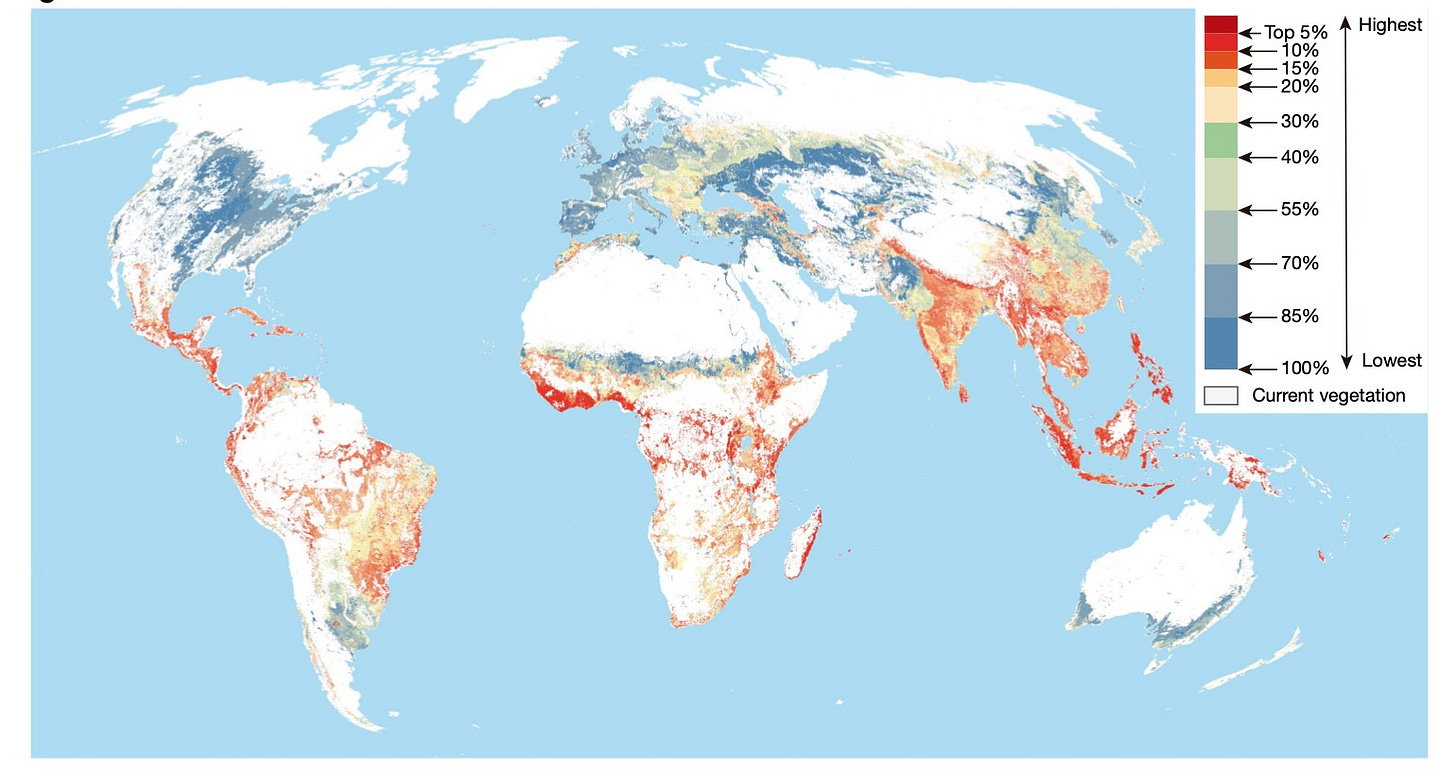 Priority areas for restoration that optimizes biodiversity, the mitigation of climate change and minimizes costs. The colors refer to the priority areas to restore due to positive benefits for species, climate and costs. Red being the highest priority. Blue is the lowest. White is existing natural lands. (click graphic to enlarge)
---
Welcome to the web version of Need to Know: Science & Insight, a newsletter on what we all Need-to-Know about climate impacts, energy transitions, the decline of nature's support systems, living safely during a pandemic and more. It comes with an often funny personal story and some useful ideas. All in a 5 to 10 minute read in your inbox once or twice a week. It's free. No ads. No spam.
---
Hello Friends, 
This is a special issue of NtK. There's an important piece of new research out today I thought you needed to know about. Normally I would have done an article for Nat Geo but find myself drawn to communicating directly with you. And doing so in what I hope is a more effective and interesting way. — S
We're in a "state of planetary emergency" 76 country leaders recently said about climate change and the ongoing destruction of natural areas. 
"And here's how we fix things," scientists essentially said today in a landmark study published in the science journal Nature. 
All we have to do is restore 15 percent of lands we've converted to agriculture and we'll avoid 60 percent of expected species extinctions while soaking up nearly 300 billion tons of CO2 — 30 percent of the total CO2 increase in the atmosphere since 1850. 
The study is titled Global Priority Areas for Ecosystem Restoration and involved 27 researchers from 12 countries.
It's not size that matters but where
Priority areas best restored to nature are mainly in the tropics because that's where most species reside. A hectare of forest in Canada might hold a half dozen species of trees compared to more than 300 types of trees in a hectare of Amazonian rainforest. Restoring tropical forests and wetlands also makes sense because they generally have the largest capacity for absorbing CO2 from the atmosphere. 
So the Need-to-Know here is what really counts in terms of bang-for-the-buck in protecting nature and tackling the climate crisis is to encourage countries like Indonesia, India, Brazil, the Democratic Republic of the Congo and others restore 15 percent of their agricultural lands. This will require better international co-operation and financial support or it won't happen. We're all in this mess together after all. 
How to get rid of 100 years of CO2 emissions
Existing forests and other natural areas still need to be protected from being converted to other uses otherwise restoration will be a bit pointless. The study points out that the combination of returning 15 percent of the world's crop and pasture lands to nature and keeping existing ecosystems in their natural form, can eventually soak up half of the CO2 we've pumped into the atmosphere over the past 170 years. With this, and a phase out of fossil fuel use, it will largely solve climate change over the next three decades. 
Hunger and feeding the world
Nearly 700 million people go hungry every day. It's the result of poverty, not because there isn't enough food being grown. That's another Need-to-Know to remember. Some 33 percent of all food produced for human consumption is wasted.
So you might wonder that losing 15 percent of current ag land might drive up food prices or result in food shortages? Nope. The study found that an incredible 55 percent, or 1,578 million hectares, of farmlands could be restored to nature without disrupting food production. All we have to do is grow our food differently while reducing food waste and meat and cheese consumption in wealthy and middle income countries. 
Easy right? 
There might be lots to debate about this ag-lands-back-to-nature study. Such debates have become a substitute for doing anything different. The Need-to-Know is that many of these heated debates about solutions are now a type of predatory delay — a way to slow progress and block the bold actions we need. How ag lands can be restored to nature is a local process involving those who might be affected. Co-operation and creative solutions will be needed to make it happen. 
However, unless we actually try to do this kind of thing we're never going to get the world we need to survive, never mind thrive. This particular study is the product of smart, ultra-rational experts — including ag experts — from 12 countries and led by several Brazilian scientists. With the pandemic we've seen to our horror when leaders ignore facts and evidence provided by medical experts who've spent their lives studying infectious diseases. 
What you and I can do is tell people we already have realistic solutions to 80 to 90 percent of what we need to solve the challenges of climate change and loss of nature. So why not work to create the world we want?
The big Need-to-Know here is that we have most of the solutions but we're not acting on them. What's behind this failure to act and what we can do about it are the topics for the next issue coming to your inbox this Saturday morning. 
Until then, stay safe.
Stephen